Vallejo
Vallejo
In 1969 Vallejo started in Spain in making paint. First, only paint specifically for animated films, and later, since 1990, also with paint specifically for hobby and model, the "Acrylicos Vallejo ', acrylic paint. Vallejo is owned by Alex Vallejo
---
Vallejo Game Color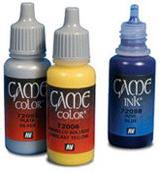 Vallejo Game Color is a range of colors spaciaal for fantasy miniatures or other wargames. There are two types, normal and heavy opaque, which is more pigment than normal to get more coverage
---
Vallejo Game Air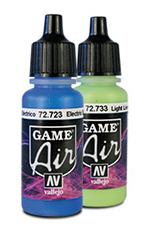 Game Air are selected in collaboration with modelers specializing in fantasy figures and dioramas, the names and the colors of the most popular colors of Game Color are maintained in Game Air.
---
Vallejo Model Color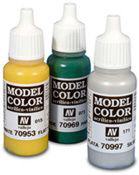 The Model Colors are historic colors for modellers and collectors of miniatures and vehicles.
---
Vallejo Model Air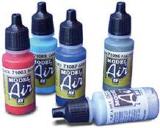 Valljo air Color is a special series paints that are specially made for use with the airbrush directly without dilution
---
Vallejo Mecha Color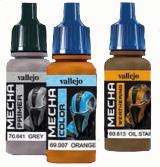 Mecha Color, a new range of acrylic airbrush colors, designed specialy for painting robots, Gundam, Transformers and Gunplas figures. The innovative formulation of the colors although water-based, guarantees a maximum resistance to manipulation, impacts, friction, scratches ans overall extreme wear. Once dry the color appears the same as the original plastic color, respecting all the details of the kit
---
Vallejo Train Color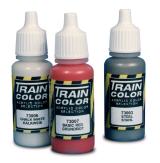 Vallejo Train Color is a small series with special paint colors to paint trains and weathering
---
Vallejo Panzer Aces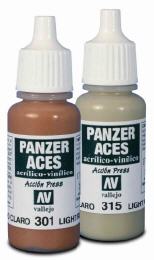 Vallejo Panzer Aces is a line specifically designed for armored vehicles in cooperation with the modeling magazine "Panzer Aces"
---
Vallejo Premium Colors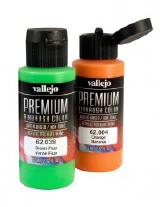 Premium colors are formulated with micronized pigments permanent and extremely resistant top layer of a polyurethane resin base which withstands the effects of outdoor elements without cracking or fading, as well as direct exposure to heat and fuel residue.
---
Vallejo Weathering Effects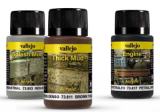 The various products of the Weathering Effects range, all of them formulated with permanent pigments and waterbased acrylic resins, have been developed to represent the effects of time and weather on models and dioramas, so that they will look as once their originals in the field. This range of effects includes the spilled fuel runnels, the splashed mud, the lichen and moss on wood, the crushed grass stuck to the metal links of the chains of a tank,all the traces of wear and destruction on vehicles in harsh and hostile climate. By placing a vehicle in a realistic setting, at rest for a brief moment, we can tell a complete story about its history of past battles in foreign zones of war.
---
Vallejo Sets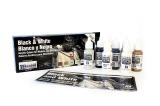 There are several paint sets available, with Game Color, Model Color, Panzer Aces or Model Air
---